Shawn and Briony Kalleske
Although Shawn's first attempt at winemaking wasn't quite the success his wines are today, everyone has to start somewhere. At the tender age of 8, Shawn with handfuls of grapes had forced them through his mother's flour strainer as he tried to make his first wine. For Shawn this was the start of a lifelong love affair with grapes and winemaking.
That love affair continues today as Shawn still tends to his own vineyards for pruning, planting and general vineyard maintenance whilst also managing the wine business and importantly – winemaking. Shawn is as much at home in the vineyard as he is in the winery which proves to be a crucial element in the success of Laughing Jack and the consistent high quality wines he produces.
Such knowledge and devotion to the land as this stems from generations of custodians tending to the same soil along with a true love and passion from the vine to the bottle.
Shawn is supported by his wife Briony and two young children Lily-Dene and Jackson. Briony works part-time in the roll of Brand Manager which includes managing the website, social media sites, Members Mailing List and Newsletters.
Ian and Carol Kalleske
Ian and Carol remain actively involved in the family business, and on any given day can still be found out amongst their 85 acres of vineyard tending to their vines. At times rain, hail or shine whether it be pruning or picking both Ian and Carol are still very much hands on today as they were yesterday! Currently the custodians of the Kalleske homestead which has been in the family since 1855, Ian also runs sheep on the property and grain crops on the remaining 200 acres.
Nathan and Damon Kalleske
Nathan and Damon are the eldest and youngest (respectively) sons of Ian and Carol. The brothers alongside their parents help run the family vineyards and work brilliantly as a team. Nathan is responsible for delivering the grapes to the winery during vintage while Damon is more hands on in the winery helping throughout the year.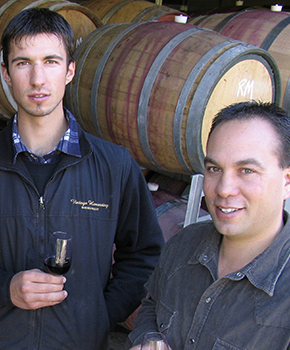 James Verrall
James, more commonly known by many as Uncle James, has been working vintages for Laughing Jack since 2005. He has been invaluable in the winery during this very busy time from February through to April, from crushing the grapes to filling the basket press and still helping punching down the ferment cap.