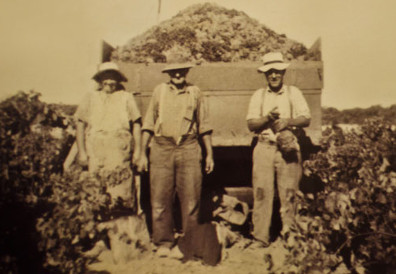 1st Generation
On Sunday 13th July 1838, Johann Georg Kalleske (born in Bratz, Prussia), wife Johanne Dorothea Kalleske and their four children, boarded the "Prince George", a three mast barque.  The 317 ton ship departed from Hamburg, Germany and began its journey with 190 Prussian migrants; sadly only 178 arrived after there were 14 deaths and two births on board during the
journey.  After almost four months at sea the migrants arrived on Tuesday 20thNovember 1838 in Port Adelaide, South Australia.
The German Lutheran migrants went on to establish Klemzig; the first ethnic village in South Australia, which is still a recognised suburb of Adelaide today.  They came to Australia to escape religious persecution in their homeland; Klemzig was named after their home town in Prussia.
Karl Heinrich Eduard Kalleske (born 10th October 1818 in Prussia), eldest child of Johann and Johanne Kalleske, met and married Anna Rosina Mattner in Klemzig, South Australia. Eduard had worked as a baker in Prussia but turned his hand to farming on arrival in South Australia. On 15th May 1841, at the age of 22, Eduard bought 40 acres of land at Hope Valley, not far from Klemzig. Here, their first child August was born of Eduard and Rosina in 1843. The couple spent a short time in Hahndorf before selling their property at Hope Valley in 1846. A year later, the young family moved to the Barossa Valley and settled at Jacob's Creek near Rowland's Flat.
Over the next 10 years, Eduard and Rosina bought multiple properties throughout the Barossa Valley in areas such as Jacobs Creek, Greenock and Moppa; at one point paying $520 for a total of 261 acres. Importantly, in 1855, Eduard purchased land at Greenock where the current Kalleske family reside. In 1857, Eduard moved his family to Moppa. By this time Rosina had given birth to 10 children and whilst at Moppa she gave birth to the last three children. Eduard and Rosina spent many years of hard work farming their properties, growing wheat and grazing sheep and cattle, until they finally retired in 1880 and moved into Nuriootpa.
As a young man, their eldest son August had helped farm the family property and later owned part at Greenock and Moppa until 1889 when it was then transferred to his son, Hermann Kalleske.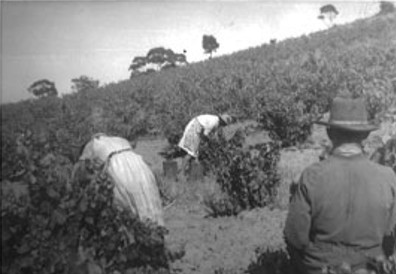 2nd Generation
Hermann Kalleske continued to farm the family property and planted the first vines in 1890. The vineyards were planted to Shiraz, Grenache and Mataro.  During 1901, Hermann struck  tough times and Section 2 (East Block) was sold to his first cousin Martin Kalleske. The remaining family property was then passed onto his son Albert Kalleske in 1946 after Hermann passed away. The vineyard was a passion of Albert's but he also tended to cows, pigs, sheep and cropping. In 1955, Albert Kalleske purchased the Moppa Hill property, consisting of 69 acres in the Moppa district. Albert and his wife Edna raised five children. Their third eldest son, Ian, left school at the age of 13 to help his father work the property. Ian and his brothers were the first to use a tractor on the property.
Although this made life easier managing the vineyard, Albert continued to walk behind his horse with a plow dodging the vines to weed between the vine rows. Albert and Edna retired in 1981 and moved to Second Street in Nuriootpa, handing down the family property to Ian.
In 1965, at the age of 19, Ian purchased more land in Greenock, known as Section 71, a 45-acre property and, with the help of his
father, planted the entire property to vines. Ian was a pruning champion, winning a competition held by the local agricultural bureau in 1958 and 1959. In 1973, he won the grape picking championship in the Barossa Vintage Festival. Ian married Carol Wandel in 1970 and raised four children, Nathan, Shawn, Fiona and Damon. Today, Carol still manages the books and helps in the vineyard hand picking the grapes and tying on the fruiting canes during the winter months. Ian and Carol purchased Section 2 (East Block) in 1993, meaning that after two generations the property was back with the original family. In 1995 Lot 1 was purchased directly opposite the homestead from Sir Condor Laucke, this property consisted of 50 acres and already had old vine Semillon and Riesling planted.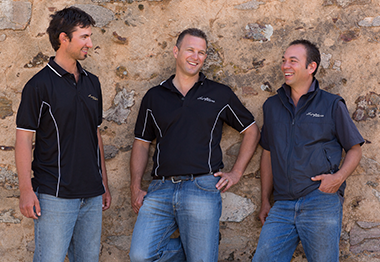 6th Generation
Now, as the sixth generation of the family to have lived in the Barossa Valley, the three Kalleske brothers, Nathan, Shawn and Damon, help their parents work the family property. With Ian and Carol still at the realm, each of the boys have their own specality working on the property. Eldest son Nathan runs the cropping land on the Kalleske family property and also helps in the vineyards, spending four months of the year in the bitter cold pruning the precious vines. Youngest brother Damon is a 'Jack of all trades', from keeping the machinery in good working order to day-to-day operations in the vineyard and the family winery.
For 152 years, from 1847 to 1999, the extended family of Eduard and Rosina Kalleske worked very hard farming and growing grapes in the Barossa Valley. But Shawn became the first of all the extended Kalleske family to make the progression from grape growing to wine making in 1999, when Laughing Jack was born. Laughing Jack's first vintage consisted of 352 cases of glorious old vine Shiraz.
Although vineyards are a passion of the Kalleske's, they still grow cereal crops and graze sheep on the property. Shawn purchased the Marananga property in 2005 from his Aunty Jan and Uncle Keith. Today, this is the home of the Laughing Jack Winery. There are plans for a cellar door with a private tasting room, where wine club members can relax and enjoy some of the Barossa's best wines from one of the Barossa's finest grape growing families.